Micro Joystick
A very small proportional joystick for electric wheelchairs, designed for people with poor muscular power and/or limited movements. 
Product features
The Micro Joystick is a joystick module which can be connected directly to the wheelchair electronics to control the wheelchair functions. It is a very small, proportional joystick, specifically designed for people with very poor or weak muscle strength and/or limited movements. It can easily be controlled by e.g. finger, chin, tongue, lip... It is recommended for people with muscular or neuromuscular diseases.
Very small and proportional
Supplied with two handles: a small ball and a cup
Very sensitive due to its low operating force (ca. 8 gr) and movement (3.3 mm). There is also a new adapted version available, which only requires 5 gr of force but comes with some additional attention points towards mounting etc.
Can be controlled by finger, chin, tongue, lip...
Designed in ergonomic shape for easy handling
Two switches can be linked to the separate interface: (red) on/off power wheelchair - (yellow) mode of the power wheelchair
Fully adjustable to individual possibilities and needs with well-thought-out electronics (mini USB connection)
Compatible with multiple types of wheelchair electronics
Has a LED light on the interface which will start to flash green in case of error or orange in case of active tilt
The joystick operates with high sensitivity. A good movement coordination and force control is required.
Products
P002-51 Micro Joystick Omni
This joystick has an Omni cable with SUB D9 connector
P002-52 Micro Joystick R-net
This joystick has an R-net bus cable
P002-55 Micro Joystick Omni (5gr adapted)
This joystick has an Omni cable with SB D9 connector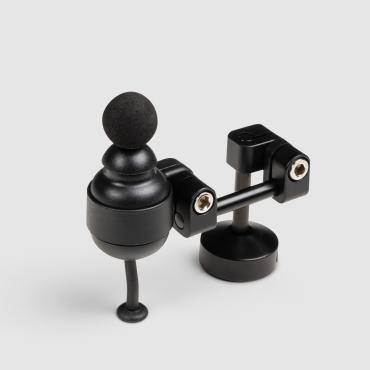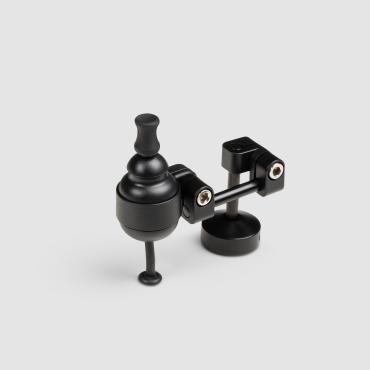 More information
Add more intelligence
There is a mini USB connection in the interface to connect the Micro Joystick to the mo-vis Configurator and add more intelligence. Interesting features are the Road Compensation and the Tilt Setting.
Download the configurator here.
Compatibility
The mo-vis joysticks are available in two versions:
R-net version with R-net bus cable
Omni version with SUB D9 connector. This can be used to connect the mo-vis joystick directly to the Omni(2) Interface of Curtiss-Wright. But you can also connect the Omni joystick to other interfaces for compatibility with Dynamic Controls (DX, LiNX) and Curtis Instruments (Q-Logic).
Take a look at this overview to learn more about the compatibility of our joysticks.
Frequently Asked Questions