In a tight spot: All-round Joysticks fit the bill
by Guest Blogger Michelle L. Lange, OTR/L, ABDA, ATP/SMS
While standard joystick modules are the most common power wheelchair driving method, these tend to be rather bulky and difficult to use if not mounted to the end of the armpad.
If there is not adequate room to mount a standard joystick module where the driver has optimal control, an All-round Joystick may be used.
Smaller housing
An All-round Joystick requires similar travel and force as a standard joystick, but is in a smaller housing, allowing this to be mounted in a variety of areas.
Because of this small size, there is no room for a display and buttons, toggles, or dials for features such as power, mode and speed. Instead switch jacks are present to accept connection of any mechanical switch type to control these features.
Satellite Twisters
The mo-vis All-round Joystick is a compact style joystick that requires 250 grams of activation pressure, similar to a standard joystick.
The All-round Joystick Light only requires 120 grams of force for clients who may have difficulty with the standard amount of force due to limited active range of motion or muscle strength.
The two switch jacks, on the base of the unit, control Power and Mode. One nice option is the mo-vis Satellite Twisters: a 'window' on each side of the joystick body can be removed to receive a Twister switch and specialized mount.
These switches are quite small and require little activation force (30 gram).
The mounts place the switches close to the joystick handle to reduce active range of motion required to reach the switches.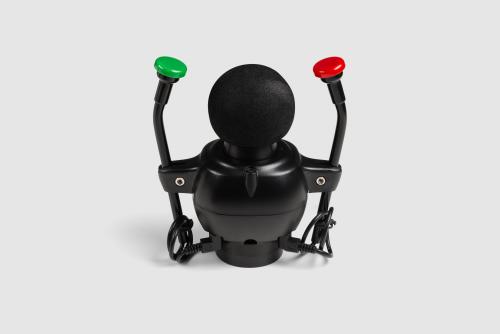 Hand, chin or attendant joystick
This All-round Joystick can be mounted by the hand or by the chin.
If mounted by the hand, it is important to ensure the driver has adequate forearm and wrist support. If mounted by the chin, the Light version is recommended to reduce forces at the jaw and cervical area which occur during driving.
The joystick can also be used as an attendant joystick.
Like all mo-vis joysticks, the All-round Joystick Light is programmable using a mini USB port on the housing and the mo-vis Configurator Software.
The joystick is available with a standard handle. A ball is optional.