HID Joystick
The HID Joystick is a low force joystick for electric wheelchairs, which can be connected via USB to a another device.
This way, you can work in mouse, joystick or keyboard mode on your PC (Windows/OSX), Android device, iOS device, XBOX or XAC.
Product features
Low force joystick: available in Micro (8.5 gr of force) and Multi (50 gr of force) version
Enables people with (very) limited muscular force and/or movements to operate devices such as computers and game controllers
Can be operated by hand, fingers, chin...
Is recommended for people with tetraplegia, (neuro)muscular diseases and other advanced diseases such as amyotrophic lateral sclerosis (ALS) or multiple sclerosis (MS)
Note: The HID Joystick is a composite Human Interface Device, which means that this device contains three HID classes: the HID mouse, HID keyboard and HID Joystick. The HID Joystick connects via USB to a PC, XBOX Game Console, Android, iOS or any other USB host device. The HID Joystick is also compatible with Bluetooth adapters.
Products
P025-61 Micro HID Joystick
USB version of our Micro Joystick (P002-51 & P002-52). Requires 8.5 gr of force and has a travel of 3.3 mm.
P025-62 Multi HID Joystick
USB version of our Multi Joystick (P002-61 & P002-62). Requires 50 gr of force and has a travel of 8 mm.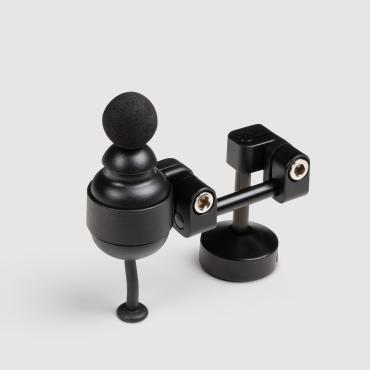 More information
Go to our Google Group to share information about your configuration, learn more about other's experiences etc.
We also offer the option to program it for you: let us know which functions you need, how many switches you can/want to use and we'll make your device plug and play!!
Frequently Asked Questions